Microwave Cooking Recipe | Microwave Cake Recipes | Microwave Indian Recipes | Dessert Recipes | Cake | Eggless Microwave Cake
Eggless Fresh Fruit Cakes are present in birthday parties and weddings. You can make it your own with easily available ingredients at home. Enjoy a delicious baked dessert that is ideal for vegetarians and very light, fluffy, creamy and very healthy too. Decorate it with your favorite and seasonal fruits. 
Cooking Time: 7 min
Preparation Time: 15-20 min
Total Time:27 min
Servings:  4
Category: Veg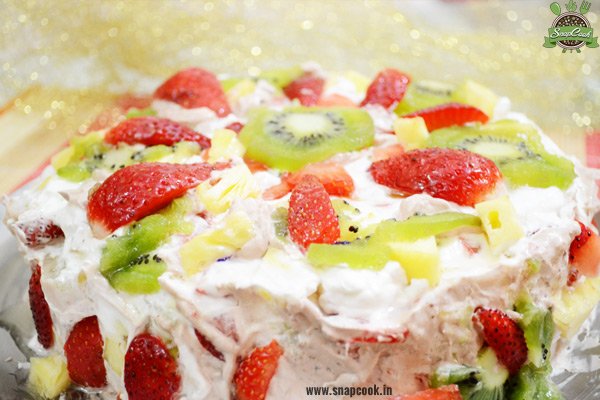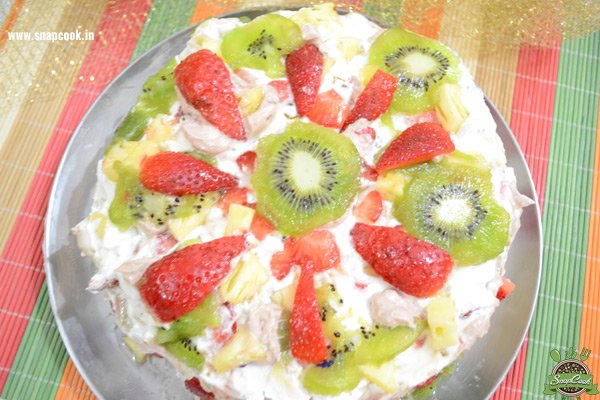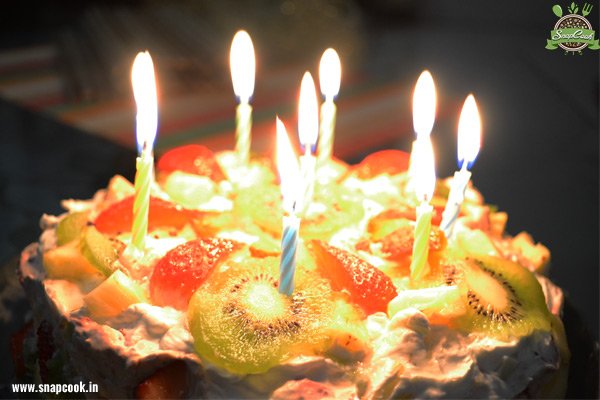 Ingredients
FOR CAKE

All-purpose flour
1¾ cup
Curd
1 cup
Caster Sugar (pisi hui chini)
1½ cup
Butter Melted (Salted)/Oil
¾ cup
Soda Bicarbonate (Meetha Soda)
1 teaspoon
Dry Fruits (of your choice)
½ 

cup

Baking Powder
½

 teaspoon

Vanilla Essence
1 teaspoon
Coloured Cherries
½

 cup

Milk
4 tablespoon
Glycerine
1 tablespoon

FOR ICING

Fresh cream
1 cup
Caster Sugar
½ 

cup

FOR DECORATION

Fresh fruits of your choice (I have used Strawberries, Pineapple, Kiwi)
To Taste
Sugar Syrup
1 tablespoon
Method
Preheat the microwave for 10 minutes.
Meanwhile, sieve maida, soda and baking powder all together and keep aside.
Combine the sugar, oil and curd in a deep bowl and beat well in one direction using a whisk or hand blender.
Now add the sieved flour mixture and mix gently with the help of spatula for 3-4 minutes till it gets smooth and light. The batter should be of medium consistency.
Add milk and vanilla essence and mix it well.
Add a glycerine in the mixture and mix again. (See Tip Below)
Add dry fruits and cherries in batter and put some into bowl before placing the batter.
Pour the batter into a greased and dusted (sprinkle some amount of maida) microwave bowl. (See Tip below)
Microwave it for 5-6 minutes on maximum power of your microwave. (It depends on microwave also, so first microwave it for 5 minutes and check it with toothpick as said in 10.)
The cake is ready when it leaves the sides or you can check by inserting the toothpick into it. It should come out either clean or with only a few crumbs clinging to it.
Remove from the microwave and invert the bowl over a plate and tap it to unmould the cake.(If you are using bread wrapper for lining, just remove directly the wrapper from bowl and put it on plate.)
Chop fruits, and mix it in whipped cream.
Spread the whipped cream all over the cake.
Now decorate it with fresh fruits of your choice.
Decoration is totally your innovation
Now add sugar syrup over it.
How to make whipped cream from fresh cream?
Add fresh cream in a bowl and beat well in one direction using a whisk. Meanwhile, add sugar in between and continue beating till it becomes very creamy.(It is something like how you make butter from milk, the procedure is same.)
How to make sugar syrup?
Boil 2 tablespoon of water with 1 tablespoon of sugar until the sugar gets dissolve.
Tips:
I used bread wrapper for lining microwave bowl instead of Step 8. The cake came out easily and the bowl remained clean as well.
Add a few drops of glycerine while beating the cake batter to make it spongier n softer.
You can also add fruit essence of your choice instead of vanilla essence, if you don't like vanilla flavor.
Cut the cake from middle into two parts and spread whipped cream there also to make layered cake.
Microwave Cooking Recipe | Microwave Cake Recipes | Microwave Indian Recipes | Dessert Recipes | Cake | Eggless Microwave Cake