vegetarian indian recipe | indian vegetarian recipes | indian food recipe
Mixed Vegetable soup is a healthy and tasty recipe of soup.In winters, it is the wonderful recipe loved by all. It is the perfect combination of sweetness and sourness which comes from tomato, sugar and pineapple juice. If you have a cold, this soup is best for you.
 
Cooking Time: 20 min
Preparation Time: 15 min
Total Time: 35 min
Servings:  4
Category: Veg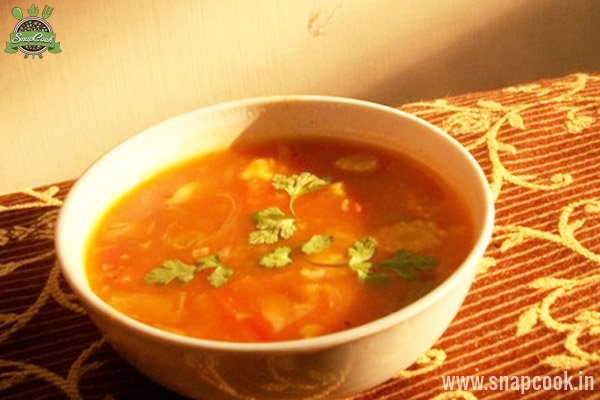 Ingredients
Cabbage (chopped)
1/2 cup
Onion (chopped in cubes)
1/2 cup
Tomato (chopped)
1/2 cup
French Beans (chopped)
1/2 cup
Peas (Shelled)
1/2 cup
Carrot (chopped lengthwise)
1/2 cup
Capsicum (Green, Red, Yellow)
1/2 cup each
Fresh Broccoli (chopped)
1/2 cup (3-4 florets)
Mushroom (boiled and chopped)
1/2 cup
Baby Corn (cut into rounds)
5-6
Pineapple pieces (chopped)
1/2 cup

FOR THE SAUCE

Tomato Puree
1 cup
Pineapple Juice
1/2 cup
White Vinegar
2 tablespoon
Sugar/Honey
To taste
Vegetable stock or water
1 cup
Cornflour mixed with 1 cup of water
1 tablespoon
Butter
2 tablespoon
Salt
To taste
 White/Black Pepper
 1 teaspoon
Method for Cooking Vegetables
Heat butter in a pan and fry all the chopped vegetables for few minutes. Add water in the same pan and boil it for 3-4 minutes.
Method for the Sauce
Heat the wok or frying pan on a high flame.
Now add tomato puree in it and cook for 1-2 minutes.
Add pineapple juice, vinegar, salt, sugar, pepper and vegetable stock in it.
When it boils, add cornflour into it. Cook it for the required consistency.
Method for Serving
Just before serving, put the vegetables in the sauce and bring it to boil for few minutes.
Serve hot.
Tips
Add some water or vegetable stock to thin down the sauce if it is too thick.
vegetarian indian recipe | indian vegetarian recipes | indian food recipe