indian snacks | vegetarian indian snacks | indian snacks recipes
It is a delicious spicy chaat made of Moong daal pakoris.For Holi festival, these moong daal pakoris are used for kanji ka pani.
 
Cooking Time: 0 min
Preparation Time: 20 min
Total Time: 20 min
Servings:  4
Category: Veg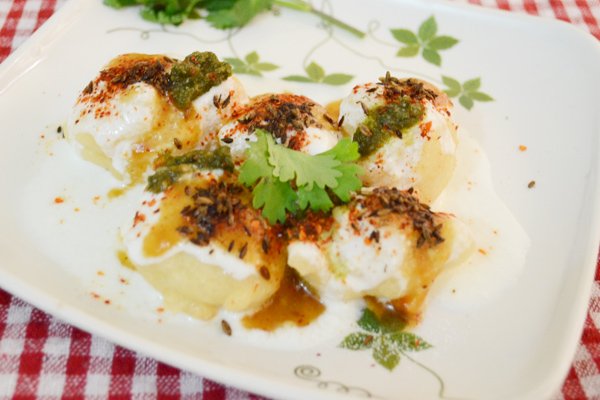 Ingredients
FOR PAKORIS

Moong Daal (Yellow)
1 cup
Urad Daal (White)
1/2 cup
Salt
To taste
Asafoetida powder
½ teaspoon (1 small pinch)
Oil
For deep frying

FOR CHAAT

Curd
2 cups
Chaat Masala
½ tablespoon
Roasted Cumin Seed Powder
½ teaspoon
Red Chilli Powder
½ teaspoon
Tamarind (Imli) Chutney
2 tablespoon
Method
Wash and soak urad and moong daal for 4-5 hours.
Grind both daal together in a food processor (mixer), with enough water to make a thick batter.
Add salt and asafoetida and beat well until the batter looks almost white.
Heat oil in kadai. The oil is ready, when a drop of batter sizzles and rises to the top. Smoking oil is too hot.
Drop dollops of batter into the oil, either using a teaspoon or your fingers.
Fry on medim flame till it gets light brown in colour.
Soak in water directly after frying for 5-10 minutes.
Squeeze each pakora gently between the palms, to get rid of the water and then arrange 5 pakoris in each plate.
Top with salted curd with a sprinkle of chaat masala, roasted cumin seed powder, red chilli powder and tamarind chutney. (spices will be of individual taste)
Serve immediately.
Tips:
Do not soak pakoras in yoghurt too long in advance of serving or they will become very friable and break when served.
To check, if batter is properly beaten, put a drop of batter in water. If it floats then it is done.
indian snacks | vegetarian indian snacks | indian snacks recipes