vegetarian indian recipe | indian vegetarian recipes | indian food recipe
Cauliflower (Gobhi) stuffed parathas, tasty and it's my favourite.
 
Cooking Time: 15 min
Preparation Time:20 min
Total Time:35 min
Servings:  5
Category: Veg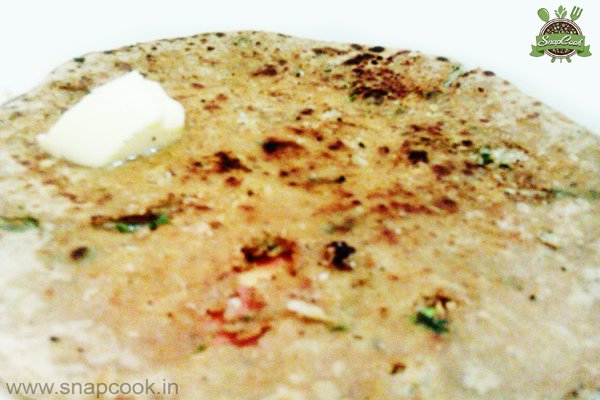 Ingredients
FOR DOUGH

Whole wheat flour
3 cups + for dusting
Water
1 ½ cup

FOR FILLING

Cauliflower (Grated)
Big Size
Salt
1 teaspoon (to taste)
Green chilly (chopped)
2-3 nos.
Asafoetida
½ teaspoon
Coriander Powder
1 teaspoon
Red Chilli Powder
1 teaspoon
Amchoor Powder
1 ½ teaspoon
Garam Masala
1 teaspoon
Coriander leaves (finely chopped)
1 tablespoon
Ginger (chopped)
1 small
Method
Wash and grate cauliflower, and mix salt in it and keep for 5-10 minutes.
Now take one cloth (handkerchief) and put this grated cauliflower into this and squeeze and remove the excess water. (Use this water for making a dough)
Take flour and add enough water (first use the squeezed out one) to make a stiff dough and keep aside for 10 minutes.
Now mix green chilli, asafoetida, coriander powder, red chilli powder, amchoor powder, garam masala, coriander leaves together with grated cauliflower.
Divide the stuffing into 6 equal parts and keep aside.
Roll out one portion of the dough into a 3 inches diameter circle.
Spread a little ghee (just one drop) and place a portion of the stuffing and fold the edges of the dough over the stuffing and seal it.
Roll Out in the shape of paratha using little dry flour. (It's your choice whether you want thin or thick parathas).
For thin parathas, little take care is required, as filling should not come out.
Cook on tava over a medium flame using little ghee/refined/butter till brown spots on both sides.
Repeat for the remaining dough and stuffing.
Serve hot with curd or chutney or butter.
Note: For beginners, who don't know how to cook parathas,
After rolling parathas, put it on tava on medium flame and after1 minute (it's the time when one side starts changing the colour), turn the paratha.
Now again check, if its cooked a little bit, put oil on paratha and cook from both the sides.
vegetarian indian recipe | indian vegetarian recipes | indian food recipe