indian snacks | vegetarian indian snacks | indian snacks recipes
This is a delicious snack cum main course. You can serve it as a chaat or with kulchass.
Cooking Time: 10 min
Preparation Time:10 min
Total Time:20 min
Servings:  4
Category: Veg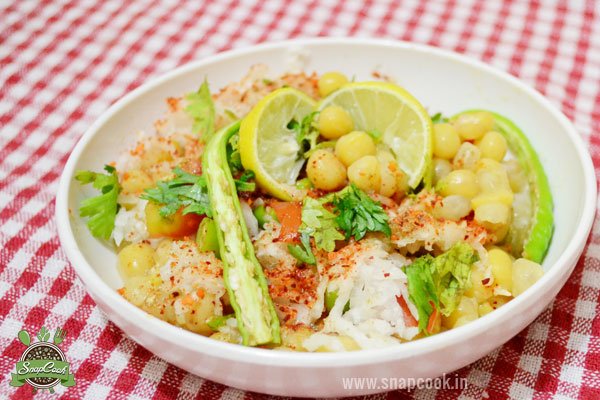 Ingredients
Matar (light brown colour, look almost like chickpeas)
2 cups
Soda
½ teaspoon
Potato (boiled, peeled & chopped)
1
Onion (finely chopped)
1
Tomato (finely chopped)
1
Cucumber (peeled, chopped)
1
Radish (Grated)
1
Lemon Juice
1 tablespoon
Green chilli
2
Coriander leaves
To garnish

CHAAT SPICES

Salt
To taste
Red Chilli Powder
½ teaspoon
Black Salt (kala namak)
½ teaspoon
Roasted cumin powder
½ teaspoon
Gram Masala Powder
½ teaspoon
Coriander Chutney
1 tablespoon
Method
Wash and soak matar overnight in sufficient amount of water and put a ½ teaspoon of soda in it.
Pressure cook the matar for about 10 minutes. (until 2 whistles come)
Serve individually taking 2 scoops of cooked matar and cover with little chopped onions, tomatoes, cucumber, green chillies, radish and potato. Sprinkle with spices to individual taste. Put a little lemon juice and chutney on top.
Toss well and garnish it with fresh coriander leaves, green chilli and lemon slice.
Serve hot matar chaat.
indian snacks | vegetarian indian snacks | indian snacks recipes