vegetarian indian recipe | indian vegetarian recipes | indian food recipe | Vegetable recipes | Indian Snacks | Indian Breakfast
Dal Dhokla is a healthy snack which is very nutritious and protein-rich diet. It is easy to make and low in fat recipe. It is a perfect travel or lunch box companion.
 
Cooking Time: 15 min
Preparation Time:10 min
Total Time: 25 min
Servings:  4
Category: Veg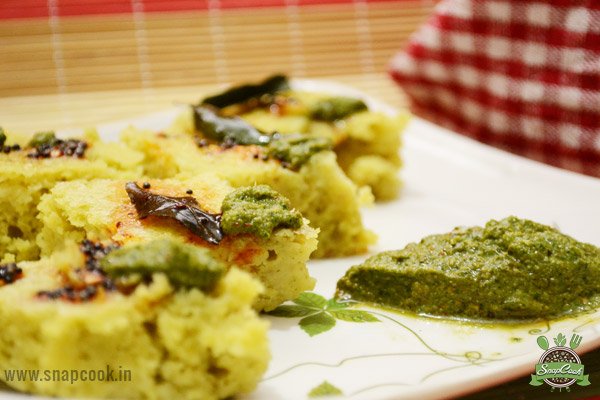 Ingredients
FOR DHOKLA

Moong Dal (Skinless)
1/2 cup
Masoor Dal (Skinless)
1/2 cup
Chana Dal
1/2 cup
Arhar Dal
1/2 cup
Salt
To taste
Meetha Soda (Fruit Salt)
1/2 teaspoon
Curd/Yogurt
1 cup
Oil
2 tablespoon (1 Tbsp-To grease the Dhokla plate, 1 Tbsp-for batter)
Ginger & Green chilli paste
2 tablespoon

FOR SEASONING

Oil
1 tablespoon
Mustard seeds
2 teaspoon
Curry Leaves
7-8
Lemon Juice
1 tablespoon
Method
Soak all dals in plenty of water for about 6 hours.
Grind the mixture into a coarse dough adding just enough curd and care to not make it watery. The consistency is when you use a ladle it does not pour itself but falls in dollops. (You can add or less yogurt for getting desired consistency)
Add the soda, oil, salt, ginger & green chilli paste and mix well.
Grease dhokla thali( flat metal with low rim) with the oil. Pour enough batter so as to fill half the height of the thali.
Place the dhokla plate in a steamer and steam for about 10-15 minutes on low flame, until the dhokla's are cooked.
For seasoning, heat oil in a small frying pan and add the mustard seeds and curry leaves. Once the crackle, turn of heat and add lemon juice to it. Now drizzle the seasoning over the dhokla's.
Cut into desired shape and serve with chutney.
Tips
You can make these dhokla's more nutritious by adding vegetables of your choice like finely chopped carrots, french beans, grated bottled gourd, green peas, finely chopped cabbage to the batter before steaming.
You can add boiled and grinded spinach (palak) also.
vegetarian indian recipe | indian vegetarian recipes | indian food recipe | Vegetable recipes | Indian Snacks | Indian Breakfast