vegetarian indian recipe | indian vegetarian recipes | indian food recipe | Vegetable recipes | Indian Snacks | Snacks Recipe
Spring rolls are mainly chinese snack loved by all. They are named spring rolls as they are usually eaten during the Spring Festival in China. They come in varieties mainly the difference in the stuffing. One can make vegetable spring rolls, noodles spring rolls, paneer spring rolls and the stuffing of your choice.   Cooking Time: 10 min Preparation Time: 25 min Total Time: 35 min Servings:  4 Category: Veg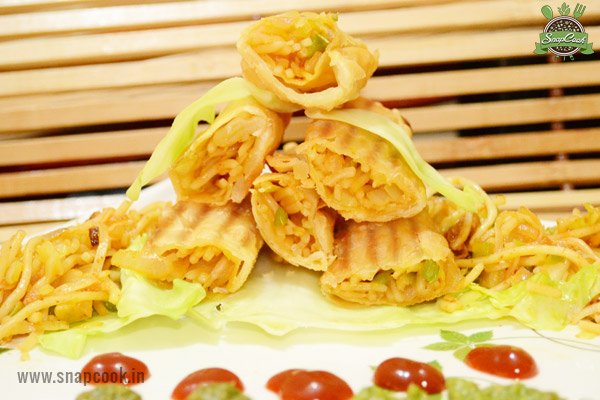 Ingredients  
FOR THE STUFFING

Noodles
1/2 packet
Cabbage (chopped)
1/2 medium sized
Onion (chopped)
1
Garlic cloves (chopped)
3-4
Capsicum (chopped)
1/2 medium sized
Soya Sauce
1 tablespoon
Vinegar
1 tablespoon
Red Chilli Powder
1 tablespoon
Salt
To taste
Oil
1 tablespoon

FOR THE ROLLS WRAP

Corn flour paste ( 1 tablespoon cornflour in 1 tablespoon water)
1 tablespoon
All-purpose flour/ Maida
2 cup
Milk (lukewarm)
1/2 cup
Salt
1 teaspoon
Oil
1 tablespoon
Method For the Wraps
Add flour, salt and oil in a mixing boil. Mix well, then add milk little by little and make stiff dough. Cover and keep aside.
For the Stuffing
In a pan, add 3 cups of water and boil it. When it boils, add noodles into it and cook for 2 minutes. (To make noodles, noodles are cooked aldent (Aldent means: partially cooking the noodles or leaving it slightly "kachcha". Drain all the hot water, add cold water and ice cubes immediately into it. This way, noodles will get separated easily and it will not be sticky.)
Place a grill pan over medium high heat. Heat it, until its get smoky.
Brush some oil onto the pan and lay the vegetables on the grill pan.
Grill the vegetables from both the sides till it gets soften and you get the aroma of smokiness – approximately 2-3 minutes.
In a microwave-safe bowl, add grilled vegetables, cooked noodles and chings' masala. Mix well and microwave it for 1-2 minutes on 100% power.
For Spring Rolls
Take small dough and roll out to make thin wraps. Put the stuffing of noodles in wrap and make a roll. Close the sides of the roll with the paste of corn-flour and water.
Now heat oil in a pan, add rolls in the batches of 2 and half fry on low flame.
Drain on a tissue, cut rolls into pieces of about 2 inches.
Place a grill pan over medium heat. Brush some oil onto the pan.
Put the pieces of spring rolls on griller and grill them on both sides.
Serve hot with tomato ketchup or chutney.
Tips
In the stuffing, instead of soya sauce and vinegar, I have added chings miracle masala. It comes free with the hakka noodles packet.
vegetarian indian recipe | indian vegetarian recipes | indian food recipe | Vegetable recipes | Indian Snacks | Snacks Recipe