sweets recipes | indian sweet dish | indian sweet recipes | vegetarian indian recipe | indian vegetarian recipes | indian food recipe | Vegetable recipes
Shahi Toast as the name suggests royal dessert made of bread topping with dry fruits and rabdi. It is all time favourite dessert for all.
(OIL FREE SHAHI TOAST)
Cooking Time: 15 min
Preparation Time: 15 min
Total Time: 30 min
Servings:  4
Category: Veg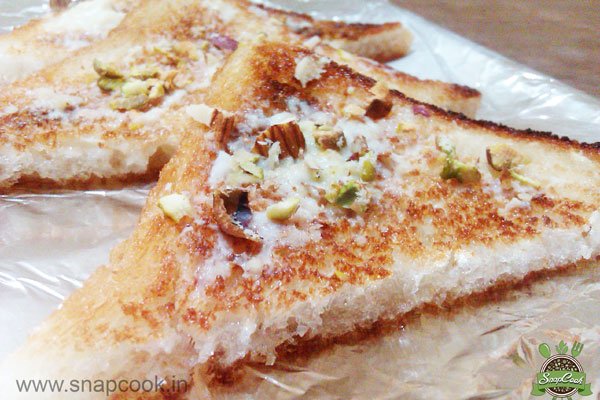 Ingredients
FOR TOAST

White Bread
4 slices

FOR TOPPING

Almonds (chopped)
3-4
Pistachio (chopped)
3-4
MilkMaid
1/2 cup
Milk
1/2 cup

FOR SUGAR SYRUP

Sugar
2 cup
Water
1 cup
Cardamom Powder (optional)
1
Method
Boil sugar and water until the sugar dissolves completely – about 7-8 minutes.
Add cinnamon seeds and continue boiling until this is of 'one-wire' consistency.
Keep sugar syrup aside to cool.
Now boil milk-maid in 1/2 cup of milk on low flame for 5-10 minutes
Meanwhile, toast the bread slices in toaster to make it crispy and then cut diagonally.
Now dip the crisp bread slices in sugar syrup for 1 minute.
Remove immediately and arrange on serving plate.
Top with rabdi made of milk-maid and garnish with dryfruits.
Serve immediately.
Tips
For crispiness of toasts, make this as close as serving time
sweets recipes | indian sweet dish | indian sweet recipes | vegetarian indian recipe | indian vegetarian recipes | indian food recipe | Vegetable recipes