vegetarian indian recipe | indian vegetarian recipes | indian food recipe | Vegetable recipes
Spinach has a high nutritional value and rich in vitamins, iron and calcium. Let us combine the nutritional spinach with some seasonings which comes out as a very healthy and yummy snack.
 
Cooking Time:10 min
Preparation Time:10 min
Total Time: 20 min
Servings:  4
Category:Veg
Recipe Credit: Swati Chandra (Our Facebook Fan)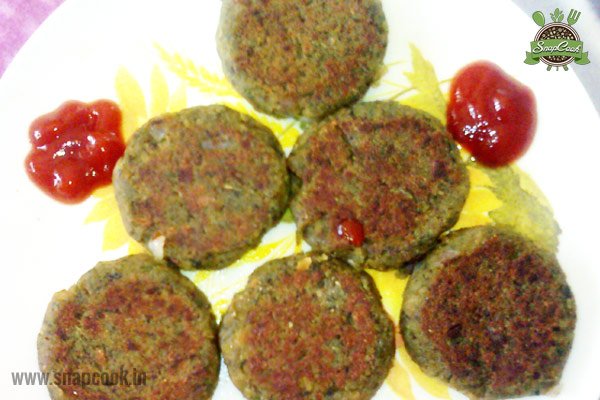 Ingredients
| | |
| --- | --- |
| Spinach (boiled) | 1 bowl |
| Brown bread slices (sides slashed) | 5-6 |
| Onion (chopped) | 1 |
| Ginger – Garlic paste | 1 tablespoon |
| Cumin seeds | 1 tablespoon |
| Cheese (grated) | 2-3 tablespoon |
| Red chilli powder | To Taste |
| Salt | To Taste |
| Garam Masala | 1/2 tablespoon |
| Oil | For shallow frying |
Method
Wash the spinach leaves. Bring it to boil, drain the excess water and put boiled leaves in cold water.
Heat oil in a pan, add cumin seeds and let it crackle.
Now add chopped onion and saute it till golden brown.
Add ginger-garlic paste and saute for another 1 minute.
Add the sauted mixture in a mixing bowl, now add-in the spinach leaves, bread slices and all the seasonings and make a fine dough (if required some water may be added to make a smooth mixture).
Divide the mixture into equal portions.
Stuff each portions of mixture with grated cheese.
Roll and shape into patties.
Heat up oil in a pan and shallow fry patties till golden brown.
Take off and remove onto a clean and absorbent kitchen towel; or paper.
Serve hot with tomato ketchup or mint chutney.
Tips
Put spinach in cold water after boiling to retain its colour and nutritions.
vegetarian indian recipe | indian vegetarian recipes | indian food recipe | Vegetable recipes