Manchurian is an indo-chinese recipe which is easy to make and very yummy. It has many varieties like vegetable manchurian, gobi manchurian, dry manchurian etc. It is made from finely minced vegetables, coated with corn flour/ all-purpose flour and deep fried, then dipped in a tangy and spicy soy sauce.
 
Cooking Time: 20 min
Preparation Time: 15 min
Total Time: 35 min
Servings:  4
Category: Veg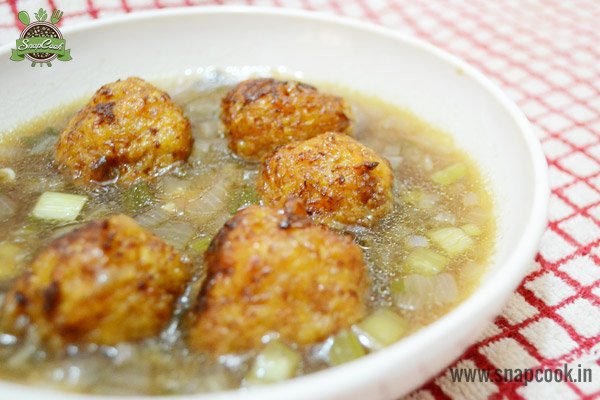 Ingredients
FOR MANCHURIAN BALLS

Cabbage (Grated)
1/2 medium sized
Cauliflower (Grated)
1 medium sized
Carrot (Grated)
1
Garlic cloves (chopped)
3-4
Corn Flour
2 tablespoon
All purpose flour (maida)
5 tablespoon
Red Chilli Powder
1 tablespoon
Salt
To taste
Oil
For deep frying

FOR THE SAUCE

Garlic Cloves (lehsun)
3-4
Ginger (chopped)
2 tablespoon
Onion (finely chopped)
3 medim sized
Green chillies (chopped)
2
Vegetable stock or water
1 1/2 cup
Cornflour mixed with 1 cup of water
1 tablespoon
Soyasauce
2 tablespoon
White Vinegar
1 tablespoon
Spring Onions Green(chopped)
1 cup
Salt
To taste
Sugar (its not for sweetness, for cut the sourness of soyasauce)
1/2 teaspoon
Method for Manchurian Balls
Mix salt in the cauliflower and keep aside for 5 minutes.
Squeeze out the excess water from the cauliflower (keep this water for sauce).
Heat oil in a kadai or wok for deep frying the balls.
Meanwhile, combine all the ingredients for the balls and add little water if required.
Divide the mixture into 15-20 balls of small sizes.
Add the balls in the batches of 5-6 and deep fry on medium flame till it gets dark brown (not burnt).
Remove from oil and drain on an absorbent paper.
Method for the Sauce
Heat the oil in a wok or frying pan on a high flame. Add the onion, garlic, green chillies and ginger and stir fry over a high flame for a few seconds.
Add the spring onion greens followed by vegetable stock (or water), cornflour paste, salt, sugar, soyasauce and vinegar and simmer the gas.
Method for Serving
Just before serving, put the fried manchurian in the sauce and bring it to boil for few minutes.
Serve hot
Tips
Add some water or vegetable stock to thin down the sauce if it is too thick.
You can add beans also in manchurian sauce.