vegetarian indian recipe | indian vegetarian recipes | indian food recipe
Vegetable Pulao is one of the healthiest, easy and quick dish in many kitchens.It is delicious and aromatic because of the spices used.
 
Cooking Time: 15 min
Preparation Time:20 min
Total Time:35 min
Servings:  4
Category: Veg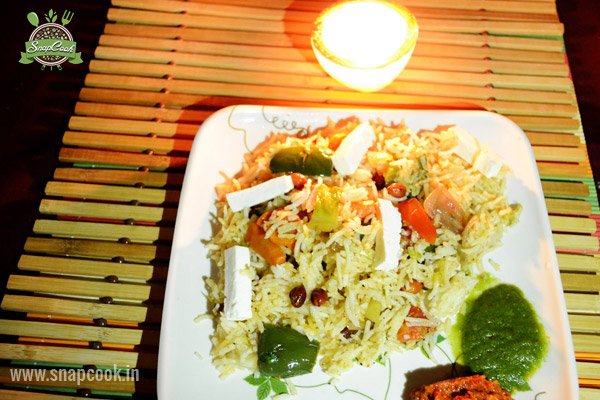 Ingredients
FOR SPICES

Coriander seeds
3 tablespoon
Cumin seeds
1 tablespoon
Bay leaf (tej patta)
3-4
Dried Red Chilli
1
Roasted Cumin Seed Powder
1 teaspoon
Cinnamon stick
1-2
Salt
To taste
Oil
1 tablespoon

FOR RICE

Rice
2 cups
Onion (chopped lengthwise)
1
Capsicum (chopped)
1
Tomato (chopped)
1
Cabbage (chopped lengthwise)
1 cup
Carrot (chopped lengthwise)
1
Garlic (chopped)
5-6 flakes
Paneer pieces
1 cup
Method
Fry all the ingredients mentioned for the spices in a oil and grind it into fine powder.
Now cook the rice along with 4 cups of water (water = 2 rice).
Now keep aside the cooked rice and allow it to cool.
Heat a kadai, add 3-4 tablespoon of oil in it.
Now add all the vegetables to it.
Fry on high flame till it changes the colour.
Now add rice to the kadai and mix it gently.
Add salt to taste and then put grinded masala (grinded masala = twice the salt) and mix it with rice and vegetables.
Fry it for 5 minutes and then turn off the gas.(spices will be of individual taste)
Serve hot with dhaniya or lehsoon chutney or curd.