Besan dhokla recipe – How to make besan dhokla in cooker or cooking pot
Besan Dhokla recipe – How to make Besan dhokla – Besan dhokla in cooker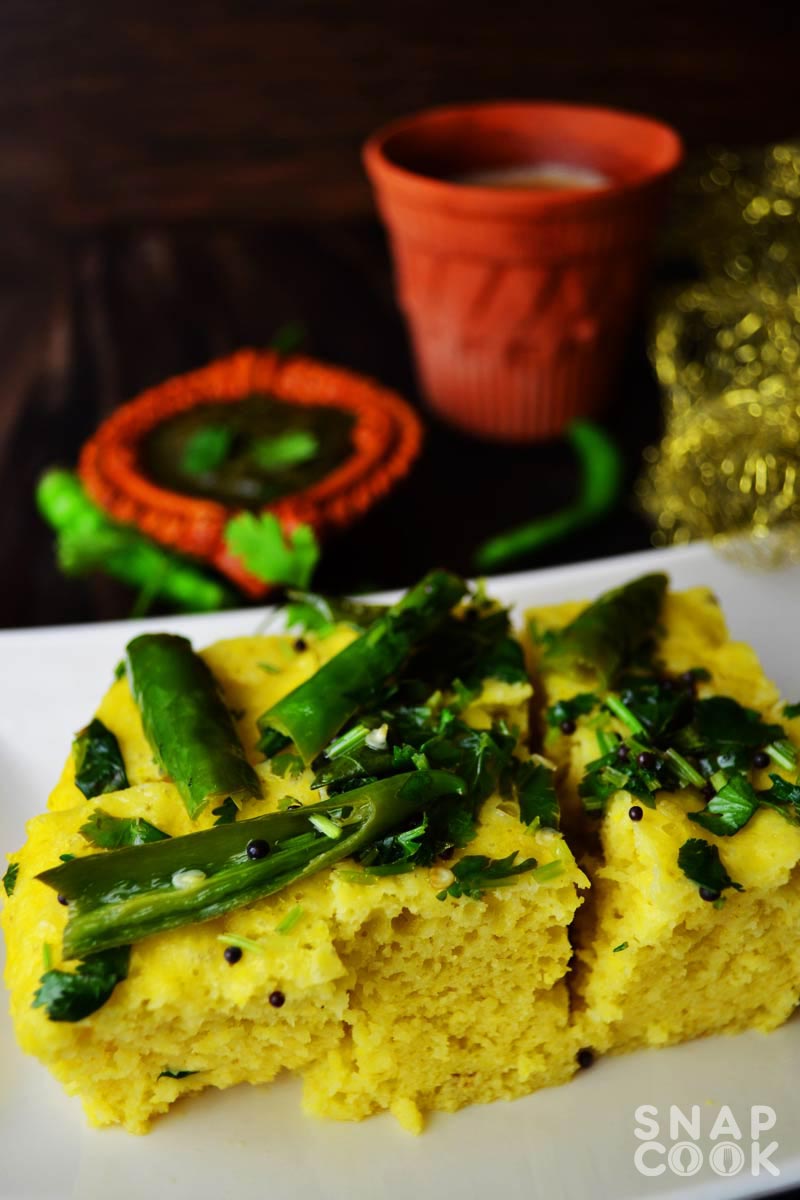 Gujarat is known for its wide variety of snacks and Dhokla is one of the most famous snacks and my personal
favorite too. With this Gujarati snack recipe, we will be making Besan Dhokla using the steaming method. For this, you can either use a pressure cooker or just a close lid deep pan like mine.
So lets start the recipe for Besan Dhokla in cooker.
Ingredients required for Besan Dhokla are as below:
For Dhokla Batter
Gram Flour (Besan) – 1 cup
Semolina (Sooji) – 2 tablespoon
Curd – ½ cup
Water – ¼ cup
Grated Ginger – 1 tablespoon
Salt – 1 teaspoon
Turmeric Powder (Haldi) – ¼ teaspoon
Sugar – 1 teaspoon
Oil – 1 tablespoon
Fresh Lemon Juice – 1 tablespoon
Eno – 1 teaspoon
[elementor-template id="2296″]
For Dhokla Seasoning
Oil – 1 ½ tablespoon
Mustard Seeds/Rai – 1 teaspoon
Curry Leaves – 3-4
Green chillies (cut lengthwise) – 2-3
Water – 1 ½ cup
Sugar – 1 tablespoon
Salt – 1 teaspoon
Coriander leaves (chopped) – ¼ cup
Fresh Lemon Juice – 1 ½ tablespoon
Method:

Making Dhokla Batter
Add 1 cup besan, 2 tbsp sooji, ½ cup curd and ¼ cup water. Mix well to avoid lumps.
Add 1 tbsp grated ginger, 1 tsp salt, ¼ tsp turmeric. Mix well.
Now add 1 tsp sugar, 1 tbsp oil, 1 tbsp lemon juice and 1 tsp eno. Mix all the ingredients in the batter. Do not over mix.
Grease a mould using oil.
Steam Besan Dhokla in Kadai/Cooker
Pour the batter till ¾ (75%) of the mould.
Take a kadai or deep pan.
Add a base elevation. You can use any small bowl or plate or separator.
Fill ¼ part of cooking kadai or cooker with water. The water should not cross the elevation.
Place the Dhokla mould on base elevation and cover it with lid. (if you are using cooker, do not put whistle on the lid)
Cook it on medium flame for 25 – 30 min.
Remove from the kadai/cooker and demold it on a plate.
Cut the dhokla in small pieces.
[elementor-template id="2296″]
Making Dhokla Seasoning
In a kadai, heat 1.5 tbsp oil.
Add 1 tsp mustard seeds. When it starts splutter add curry leaves.
Add 2-3 green chillies cut in lengthwise.
Roast the mixture for few minutes. Turn of the stove.
Now add 1 ½ cup water. Add 1 tbsp sugar, 1 tsp salt, ¼ cup chopped coriander leaves and 1.5 tbsp fresh lemon juice.
Mix all the ingredients and bring it to boil.
Pour the dhokla seasoning on the dhokla pieces evenly.
Serve with coriander chutney and hot tea.
[elementor-template id="2296″]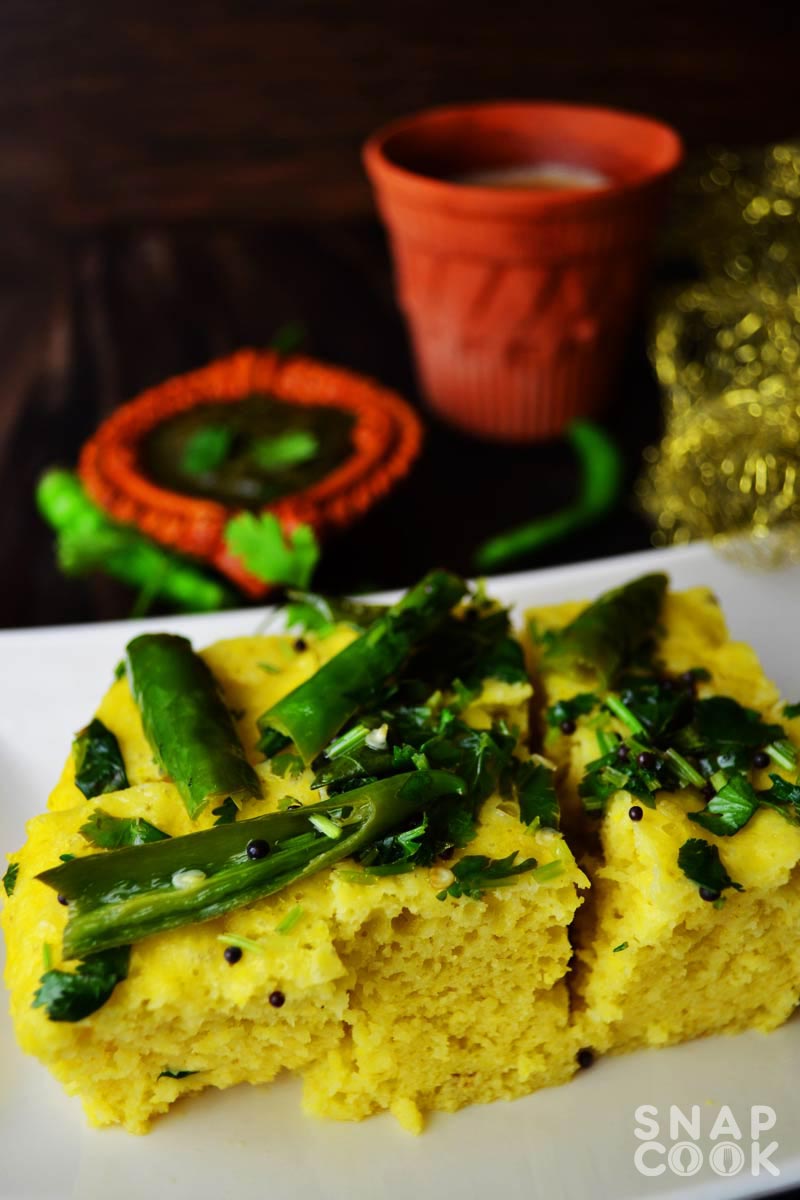 How to make besan dhokla in cooker or cooking pot
In this recipe we will make Besan Dhokla using cooker or cooking pot wihout any oven or microwave.
Ingredients
For Dhokla Batter
1

cup

Gram Flour (Besan)

2

tbsp

Semolina (Sooji)

½

cup

Curd

½

cup

Water

1

tbsp

Grated Ginger

1

tbsp

Salt

¼

tsp

Turmeric Powder (Haldi)

1

tsp

Sugar

1

tbsp

Oil

1

tbsp

Fresh Lemon Juice

1

tsp

Eno
Besan Dhokla Seasoning
1.5

tsp

Oil

1

tsp

Mustard Seeds/Rai

4

units

Curry Leaves

3

units

Green chillies (cut lengthwise)

1.5

cup

Water

1

tbsp

Sugar

1

tsp

Salt

¼

cup

Coriander leaves (chopped)

1.5

tbsp

Fresh Lemon Juice