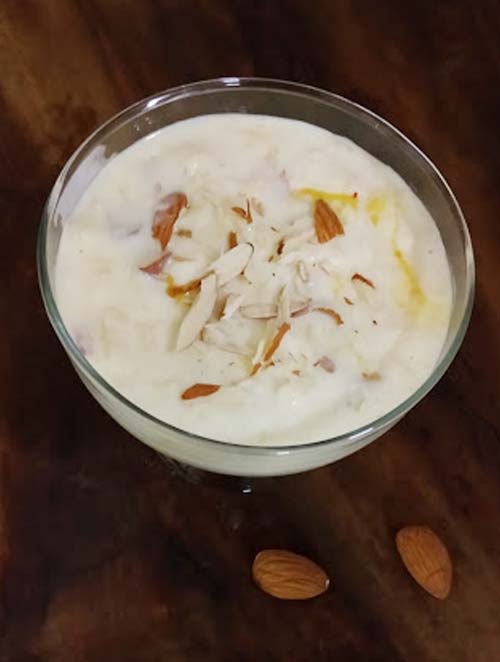 Servings: 4
Ingredients:
·        Full Fat milk 500 ml
·        Condensed Milk/Milkmaid ¼ cup
·        Cornflour 2 tbsp
·        Almonds, Pista, cashew nuts 1 handful spoon
·        Elaichi powder  a pinch
Method:
1.      Take 500 ml full-fat milk in a kadai (preferably non-stick)
2.      Bring it to boil on high flame and reduce the flame to medium.
3.      Keep collecting the malai on the edges and keep stirring.
4.      In a small bowl, take 2 tbsp milk and add cornflour. Mix it well so that no lumps are formed.
5.      Add the cornflour mixture and ¼ cup milkmaid in the milk and keep stirring.
6.      Add chopped dry fruits while cooking.
7.      Cook for approx. 10 minutes from now or till the milk gets thicken.
8.      Now scraping the edges of your Kadai ( malai collected on edges) and collect it in between.
9.      Add a pinch of Kesar and elaichi powder.
10.  Turn off the flame.
11.  Allow instant rabri to cool completely and refrigerate for a minimum of 1 hour.
12.  Serve instant rabdi with chocolate brownie. It will be the yummiest combination.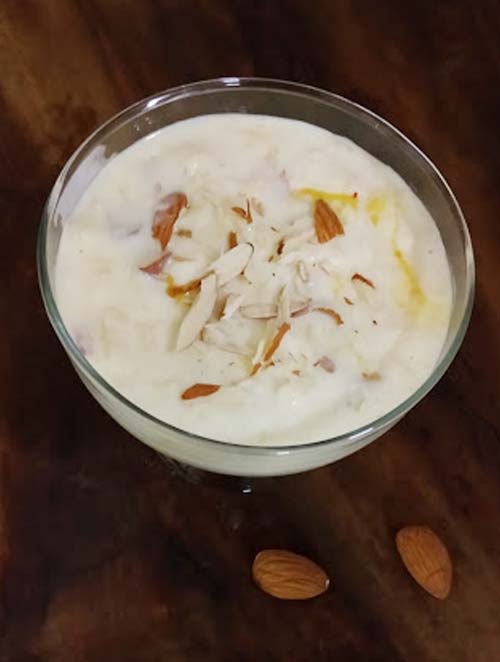 How to make instant Rabri using Milkmaid
Instant rabri dessert recipe using milkmaid - step by step recipe
Ingredients
500

ml

Full Fat milk

¼

cup

Milk/Milkmaid

2

tbsp

Cornflour 

1

tbsp

Mix Chopped Dry Fruits

¼

tsp

Green Cardamom Powder
Instructions
Take 500 ml full-fat milk in a kadhai (preferably non-stick)

Bring it to boil on high flame and reduce the flame to medium.

 Keep collecting the malai on the edges and keep stirring.

In a small bowl, take 2 tbsp milk and add cornflour. Mix it well so that no lumps are formed.

Add the cornflour mixture and ¼ cup milkmaid in the milk and keep stirring.

Add chopped dry fruits while cooking.

Cook for approx. 10 minutes from now or till the milk gets thicken.

Now scraping the edges of your Kadai ( malai collected on edges) and collect it in between.

Add a pinch of Kesar and elaichi powder.

Allow instant rabri to cool completely and refrigerate for a minimum 1 hour.

Serve instant rabdi with chocolate brownie. It will be the yummiest combination