How to make idli in microwave | instant rava idli | microwave rava idli | instant idli recipe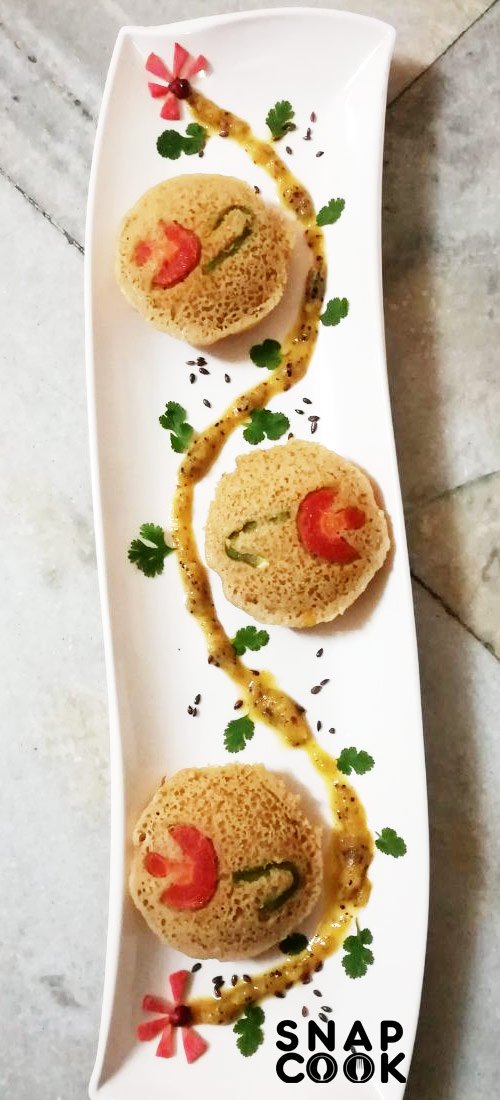 Ingredients :
For Idli Batter
Jaggery – ½ cup
Tamarind – ¼ cup
Semolina/Sooji – ¾ cup
Salt – 1 tsp
Eno/Fruit Salt – 1 tsp
For Stuffing Idlis
Chopped Capsicum – ½ cup
Chopped Carrot – ½ cup
Chopped Cabbage – ½ cup
Veggies (your choice)
Curry Leaves – 4-5
Green Chillies – 1 (to taste)
Coriander Leaves
Salt – ½ tsp
Amchur Powder  – ½ tsp
Mustard Seeds – ½ tsp
Oil – 1 tsp
For Kiwi Dip
Kiwi – 1 medium sized
Dates – 2
Salt – ¼ tsp
Jaggery – 1 tbsp
Oil – ½ tsp
Mustard Seeds/ Rai – ¼ tsp
Method:
For Batter:
Soak jaggery in little water overnight in one bowl.
Soak tamarind in little water overnight in another bowl.
For tamarind, squeeze and extract thick juice. Add little water, squeeze well and strain. Discard the pulp.
Mix jaggery and tamarind water and add semolina in it. Add salt and keep batter aside for at least half an hour to settle.
After 30 minutes, add water or sooji as required and make a batter which is neither thin nor thick.
For Idly Stuffing:
Heat oil in a pan. Add mustard seeds and curry leaves and let them splutter.
Now add all the veggies, green chili, salt and amchur powder and saute on high flame till all the water evaporates.
Keep aside to cool.
For Kiwi Dates Dip
Peel and chop Kiwi.
Remove the dates seeds and chop the dates.
In a pan, heat oil and add mustard seeds.
Add chopped kiwi and dates in the pan and add very little water (1 tsp app) and cover the pan.
Keep it for 5 – 10 min on low flame.
Turn off the flame and add salt and jaggery.
Let it cool and then grind it for dip consistency.
For Making Idli
Pour 2 glasses water in cooker and heat over medium flame. Grease Idli Molds with oil. Add Eno in batter and stir. Do not overmix.
Firstly, I have kept carrot capsicum flower on greased molds.
Pour little batter, put some stuffing over it and again cover the stuffing with batter.
Put idli mold in the cooker and cover the lid without the whistle and steam it for 5 minutes on medium flame and for 5 minutes on low flame.
Turn off the gas and remove molds from the cooker. Let it cool a bit.
Remove prepared idli from the molds.
Serve idlis with kiwi dates dip.